HMM confirms interest in 22,000 teu boxships to stay competitive.
Ngày đăng: 04/01/2018 | Lượt xem: 5572
SOUTH Korea's Hyundai Merchant Marine intends to order a series of 22,000 teu mega containerships in order to raise its competitiveness in the global market by boosting tonnage to more than 1m teu.
President and chief executive CK Yoo revealed the company's ambitions during a sales strategy meeting held earlier in the week, an HMM official told Lloyd's List.
"But the order time, type or size of vessels are not decided yet," the official said in response to local media reports that the company could order between 10 and 12 vessels of 22,000 teu in the future.
The mega boxship orders will also help the company meet international emissions regulations such as the 2020 global sulphur limits set down by the International Maritime Organization.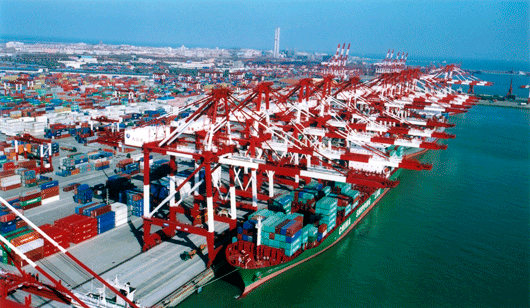 Despite its ambitions, Alphaliner executive consultant Tan Hua Joo said HMM needed to sort out its alliance issues first, because it is at present not operating any containerships on the North Europe route on which the 22,000 teu-class vessels are expected to trade.
"They will likely seek to join The Alliance, who are themselves short of mega boxships," he said.
Mr Tan added for the moment, HMM is unlikely to opt for liquefied natural gas-driven mega boxships such as the ones ordered by CMA CGM earlier in the year, "given the higher price for such ships while the infrastructure is still lacking".
In the coming year, HMM will concentrate on measures to develop its employees via professional education and training, use innovation in the area of blockchain technology to drive business growth, and improve profitability of its local and overseas terminals on the US west coast, Busan, Kaohsiung, Algeciras, Rotterdam and more.
It will also come up with initiatives to deal with market conditions, such as new vessel deployments, launching new services, widening its business network and lowering operational expenses.
HMM had raised more than Won600bn ($555.9m) in liquidity from the sale of 120m shares in October this year and intends to allocate about Won200bn for vessel acquisitions, Won200bn for terminal investments on the US east coast, Vietnam, Singapore and Busan, among other locations, it said in a recent earnings report.
The rest of the funds will be used to pay down debt, with about Won129bn due in 2018, fuel and charter costs of Won164.6bn in the first quarter of next year, and to improve its overall financial situation.
HMM currently has a fleet of 19 owned vessels, comprised of 13 boxships, three tankers and three dry bulk vessels. It has 80 chartered-in vessels, consisting of 43 containerships, seven tankers and 30 bulk carriers.
Source: Lloyd's List

HATS
Tin nổi bật
Nghị quyết Hội đồng quản trị ngày 06/12/2023

Ngày 07/12/2023
Nghị quyết Hội đồng quản trị ngày 04/12/2023

Ngày 04/12/2023