Japan's ONE unveils full global network
Ngày đăng: 02/02/2018 | Lượt xem: 373
THE Ocean Network Express, or ONE — the new Japanese carrier comprising NYK, MOL and K Line — has revealed the remainder of its global service offering as it gears up for its April launch.
From April 1, ONE will operate as many as 44 separate loops and strings on the South America, intra-Asia, Oceania and Africa trade lanes. This is in addition to the 33 services covering east-west routes, namely the Asia-Europe/Mediterranean, transpacific and transatlantic trades, offered by ONE alongside Hapag-Lloyd and Yang Ming as part of The Alliance's coverage.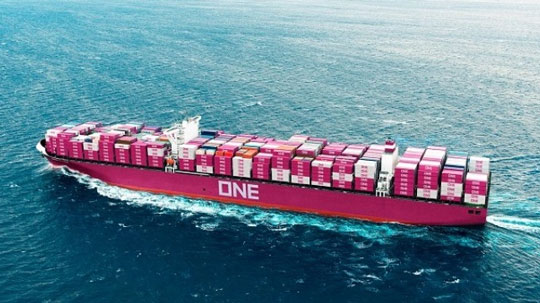 Known as 'Day ONE', in recognition of the carrier's inaugural day, ONE will roll out 11 loops serving the South American trades; 17 intra-Asia services; and eight in both the Oceania and Africa regions.
Latin American routes will include two Pacific coast strings; one connecting South American east coast hubs with the US west coast via Los Angeles, and the other a loop linking Panama's Balboa with Calloa in Peru, with stops in fellow Peruvian port Palta and Ecuador's Guayaquil.
Three Far East-South America east coast services will be deployed. These will be joined by two dedicated Caribbean services and a further north/south routing on the Atlantic coast connecting Latin America with the US and Mexican Gulf.
A trio of Far East/West coast and Central coast America services, to be known as the Asia-Latin Express, will also be launched, although port rotations have yet to be confirmed by the trio.
The Japanese carrier's intra-Asia offering will use Singapore as its hub port in the region, with all the major manufacturing countries covered by the lines and respective port facilities.
Meanwhile in Oceania, eight loops will be launched from the start of April, linking Australia with Thailand, Singapore, China, Japan and Korea. Three services will offer direct calls in New Zealand.
African services will include connections from South Africa to the Mediterranean and northern Europe; two east coast services with Sri Lanka; one Asia-West Africa and one Asia-Mediterranean loop.
Last week, ONE received final approval from the one remaining competition authority in all the jurisdictions it will conduct activities. South Africa's decision to give the all-clear to the joint venture means the joint venture now has the all-clear to start operations as scheduled on April 1.
Source: Lloyd's List
HATS
Tin nổi bật

Nghị quyết Hội đồng quản trị ngày 22/11/2023

Ngày 23/11/2023
Tin vắn Tuần: 46- 2023

Ngày 18/11/2023