Newbuilding market recovery set to continue in 2018
Ngày đăng: 08/01/2018 | Lượt xem: 5379
CHINESE newbuilding markets are expected to see more encouraging signs at the start of the new year, with ship prices continuing to climb, led by the dry bulker sector, based on last month's indications.
The monthly China Newbuilding Price Index, which tracks ship prices at Chinese yards based on inputs from 19 member broking houses, rose two points to 768 in December 2017.
The dry bulker sub-index increased four points to 787, while the tanker index edged up one point to 823 points. At the same time, the containership index grew three points to 789.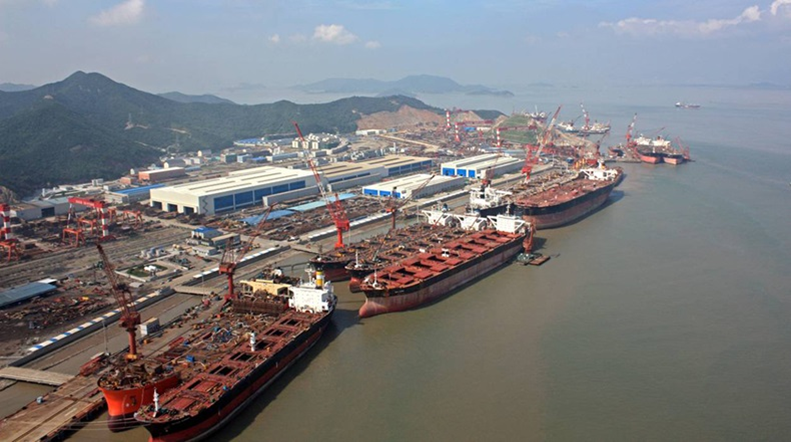 Strength in the underlying freight market, an attractive yuan valuation, as well as steel prices all played a role in the upward movement.
Additionally, higher interest rates have increased shipyards' funding cost, which, in turn, contributed to the rise in ship prices, according to CNPI brokers.
Containerships
When it came to boxship new orders last year, Chinese yards outpaced Korean yards, with 48% of the global pie versus 36%.
Chinese yards' strength in building feederships, as well as their success in winning the supersized-vessel orders placed by CMA CGM backed by compatriot financiers, were the main reasons for the dominance.
In fact, the newbuilding markets in 2017 were comprised of ships under 3,000 teu and above 20,000 teu, leading to an 'hourglass-shaped' ordering structure, according to SITC Broker, also a CNPI member.
"That is a reflection of the current competition focus of shipping lines: competing on the main lines via big alliances, while also vying for regional market share," it added.
The broker expects ordering in 2018 to remain at the same pace as in 2017, with a slight increase in ship prices, considering the rise in shipbuilding and regulatory compliance costs.
However, it also warned shipyards not to pin their hopes on a significant recovery.
This is because the upcoming delivery of a large amount of ultra large containerships is likely to reignite heated price wars among carriers, while regulatory uncertainties, such as the 2020 sulphur cap, may lead owners to halt their ordering plans.

HATS