News Highlights week: 13 - 2021
Ngày đăng: 29/03/2021 | Lượt xem: 67
An attempt to refloat the strandedcontainer ship blocking the Suez Canal has failed, the ship's technical manager, Bernhard Schulte Shipmanagement, said on Friday. The firm said a Dutch rescue team from Smit Salvage had confirmed that two additional tugs would arrive on March 28 to assist in refloating the ship. The 400-metre, Ever Given ran aground on Tuesday morning after losing the ability to steer amid high winds and a dust storm, the Suez Canal Authority (SCA) said in a statement.
Container spot rates from Asia to Europe look set to surge again, as carriers are obliged to blank sailings in response to the Suez Canal blockage. The Loadstar understands that shipping lines are considering introducing a Cape surcharge for vessels that are diverted around Africa to recover the extra cost of bunker fuel consumed in the additional seven to 10-day transit.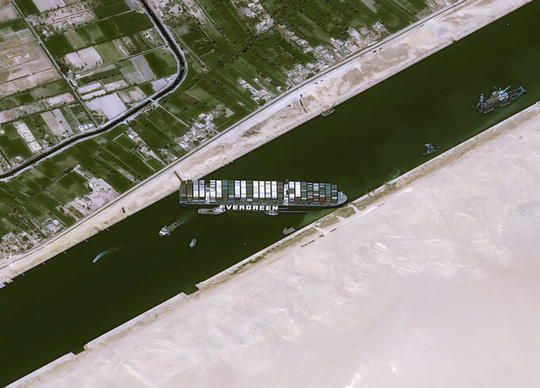 Yang Ming has reported net earnings for 2020 that were TWD 12bn ($400m), compared to a loss of TWD 4.3bn the year before. Revenue grew 1.4% to TWD 151bn, while cargo volumes dropped to 5.07m teu, against 5.4m teu in 2019.
Singapore has carried out the first ship-to-ship transfer of marine liquefied natural gas to an ocean-going containership. CMA CGM's 15,000- teu Scandola received 7,100 cu m of LNG from bunker tanker FueLNG Bellina during the landmark ship-toship transfer. The 2020-built boxship also loaded and discharged cargoes while being refuelled with LNG, marking another first in Asia.
There are signs that equipment availability may be improving after a long period of container shortages at China's main export hubs. New figures from container trading platform Container xChange show the number of inbound containers to China's main ports is up 56% compared with before last month's Chinese New Year holiday.
High levels of consumer demand and low inventory quantities mean congestion bottlenecks in the US are unlikely to clear for some time. Even though volumes imported into the US in the second half of last year set new records, US Census Bureau data for January shows the sales-toinventory level fell to 1.25 in the latest figures.
Zim reported full-year net income of $524.2m, reversing a loss of $13m in2019, on the back of a 21% increase in revenues to $4bn. This in turn was driven by a 22% increase in average freight rates to $1,229 per teu and a slight uptick in volumes lifted to 2.8m teu.
The parent of Orient Overseas Container Line (OOCL) said cargo volumes and revenue were also at record levels as the sector roared back in the second half with pent-up demand as pandemic restrictions eased. The company called operating earnings of $992m in 2020 an "impressive result". The figure compares with $361m in 2019. In the second half, OOIL made $801m, from $56m in the same period of the year before. Revenue in the last six months of the year rose to $4.76bn from $3.57bn. Cargo volumes grew to 7.5m teu over the whole year, from 6.9m teu in 2019.
MKT