News Highlights week: 36 - 2022
Ngày đăng: 08/09/2022 | Lượt xem: 73
Charter market euphoria fades
Apart from the series of forward fixtures concluded in the larger sizes recently, the container charter market continues to see very little fixing activity.
This is, in part, due to a continued shortage of ships. However, demand is also becoming an issue with most major carriers holding back from securing further ships, especially the prompter units, against a backdrop of falling cargo demand. In this respect, the return of spot tonnage, although limited at this stage, is a sign that the market is running out of steam.
This bearish momentum translates into continuously softening charter rates, and ever shorter period employments.
With the exception of one carrier, none of the main charterers are currently willing to embark on multi-year commitments for prompt tonnage.
The maximum obtainable is generally 12 months, versus up to 60 months at the peak of the market.
Even highly remunerative short-term employments have become harder to develop, unless at discounted terms, as demand for spot shipments wanes.
Forward tonnage open in 2024 and beyond, especially the larger and modern ships, continue however to generate interest among carriers. Charter rates meanwhile continue to weaken across the board but remain healthy for most sizes of ships and are expected to stay strong in the short term, due to an ongoing limited supply of tonnage and persistent disruptions in the global logistics chain.
On the cargo front, the news is grim with spot rates falling at an accelerated pace. The SCFI, which dropped to 2,848 points on Friday is 10% below its level of the previous week and 45% lower than its historic high in January.
This development is of particular concern for carriers with a higher exposure to spot cargoes. Most liner shipping companies are now however recognizing that whilst 2022 will be a record year, choppy waters are expected from 2023 onward, due to a combination of weaker cargo demand and massive newbuilding capacity influx.
These developments will inevitably impact the charter market too, with an expected lower demand for NOO tonnage, and a rising pressure on charter rates.
Average carrier operating margin falls on worsening conditions
Seven out of the ten biggest carriers saw their operating margins fall in the second quarter of 2022 after lines were hit by a combination of tumbling spot rates, rising costs and weaker demand.
On average, the industry reported an operating margin of 56.3% for the quarter, down from 57.4% in the first three months of the year.
The margin had previously ticked up in Q1 after Shanghai lockdowns depressed results in Q4.
COSCO, Evergreen and Maersk Ocean (the group's container business plus limited terminal and bunkering activities) were the only top-ten carriers to report an increase in their margin in the latest period, with COSCO in particular posting a significantly better return than in the previous quarter.
The seven remaining lines saw a decline or effective plateau in their margins, with ZIM and Wan Hai Lines recording the biggest drop from over 60% to the low-50s.
Despite the widespread fall in margins, the majority of carriers reported higher (or even record) quarter-on-quarter operating profits (EBIT) in the second quarter - see table of 'Financial Winners and Losers' on page 2.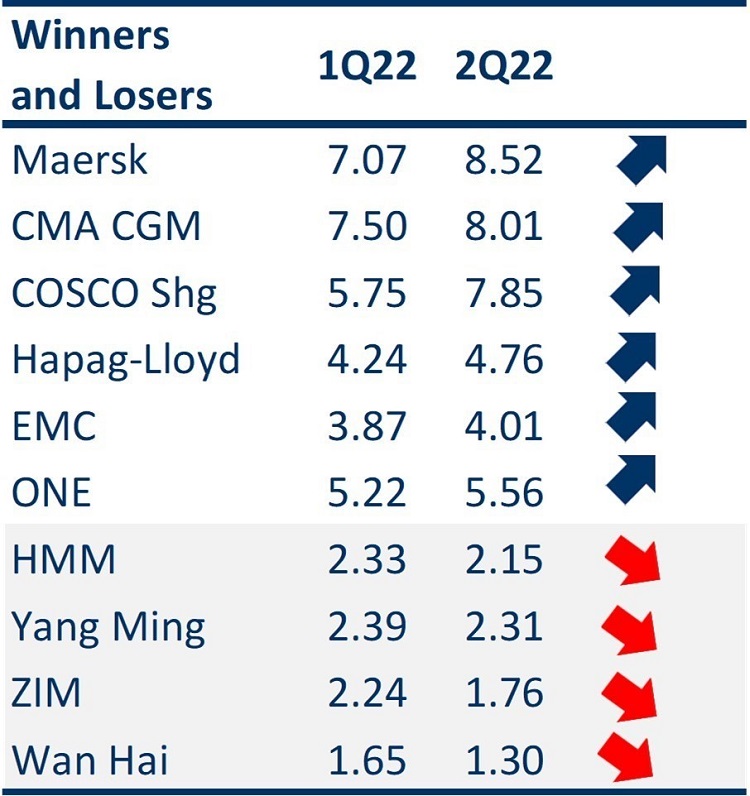 As long as contract rates remain intact, the industry is likely to see a widening two-tier market differentiated by those carriers who have signed long-term contracts at elevated rates, and those relying on the softening spot market.
Meanwhile, lower margins even for those carriers that reported higher profits in the period points to a rise in expenses for the industry, a fact highlighted last week by CMA CGM.
The French carrier's operating costs increased by more than 22% year-on-year in the second quarter after it booked higher chartering, port and especially bunker costs.
For the latter, the line paid USD 1.1 bn more for bunkers in the first half of 2022 on a like-for-like consumption basis than in the same period in 2021.
MKT
Tin nổi bật
Tin vắn tuần: 47 - 2022

Ngày 26/11/2022
Giấy chứng nhận đăng ký chứng khoán

Ngày 25/11/2022
Giấy chứng nhận đăng ký doanh nghiệp thay đổi lần thứ 14

Ngày 18/11/2022